Digital Food Safety company, Kelsius, is celebrating after landing a deal with Reading University to install the largest single deployment of its FoodCheck Paperless HACCP system.
The deal will see 17 individual FoodCheck systems covering every element of food production and food service rolled out across the entirety of Reading University, which is comprised of three separate campuses- Whitesbridge, London Road and Greenlands.
FoodCheck ensures the highest levels of food safety are adhered to by staff and management, while also guaranteeing maximum product safety allowing for complete food safety control. In addition to the safety element, it also massively reduces the costs associated with maintaining these standards – in some instances up to 30 hours per week.
Kelsius will deploy 20 FoodCheck tablets and over 100 temperature sensors to enable Reading University comply with regulations in the complex area of food safety.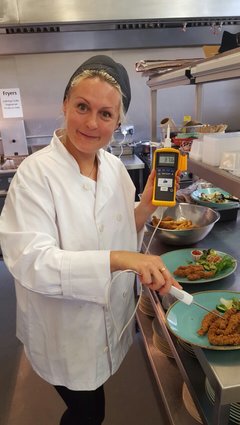 Kelsius Sales Director Paddy Hearty said "We are delighted to have secured this deal with Reading University as it was a number of months in the preparation. We look forward to ensuring the team at the University continue to meet the high HACCP standards they strive to implement. This deal reinforces our position within the Digital Food Safety market."

Reading University is home to 17,000 students and over 4,000 academic and support staff and was recently ranked in the top 1% of Universities worldwide (QS University Worldwide 2015/2016).
Neil Stafford from Reading University said, "The new Kelsius system is Fantastic, I am able to add/ remove staff, tasks, vendors and products within minutes. Get instant updates/ alerts on fridge and freezer issues. It does not deter the staff from using it as it is so simple to use. My aim was to provide the staff with an easy system to use, that they would not be afraid to use. I can train staff within minutes as it is so simple. I have a full tractability on everything within the system and again so easy to gain reports.
The support I have received from Geraldine and Denise has been fantastic. FoodCheck makes my job easier."
For more information please contact us.