Applegreen awards Kelsius contract for FoodCheck across Ireland's largest Independent fuel retailer's food offer.
Kelsius, the food safety monitoring technology firm headquartered in Donegal has recently signed an agreement to roll out its revolutionary new FoodCheck technology across the Applegreen Network.
The contract has a potential value of €1million over 3 years as the technology rolls out across the expanding Applegreen Network and sees the FoodCheck system replace the current industry standard paper based labour intensive manual monitoring and record keeping allowing staff spend more time in direct customer interaction and sales.
Commenting on the contract, Eamonn Quinn, Executive Chairman, Kelsius said "Food Safety is a huge issue for all food businesses. The reputation damage of even one major incident can take many years to repair. Achieving a consistent standard across a branch network that has real time visibility allows retailers to know that they are on top of this issue. Using existing paper records a retailer only discovers there is a problem when it's too late. Using FoodCheck reduces time spent on administrative tasks and allows staff to spend more time with customer related duties. FoodCheck uses wireless temperature sensors and a tablet application to automate the HACCP process. The recorded information is stored in the cloud and immediately available to the company. We are delighted that Applegreen a company renowned for being an innovator in its industry has awarded us this important contract."
Joe Barrett, Chief Operations Officer of Applegreen further commented "We at Applegreen are delighted to be using Kelsius FoodCheck technology across our growing Applegreen network. We pride ourselves on our customer service and innovative food options whether in our small local stations or in our larger Motorway Service Areas. It's important that our staff spend as much time as possible in customer facing roles and the FoodCheck technology ensures that the hugely important area of food safety management is managed with meticulous attention to detail but without the onerous hours of paper reporting and filing. As an independent Irish company we were delighted to be supporting another growing Irish company who came up with the perfect solution for Applegreen."
Kelsius' FoodCheck technology replaces the current paper-based systems that require repetitive manual monitoring and record keeping. FoodCheck's web based temperature monitoring and food safety compliance system automates these tasks. The system utilises systematic and preventative regimes meaning that the industry standard HACCP processes are fully followed and that nothing is left to chance in the hugely important area of food safety. All data is stored electronically. Alerts of non-conformance are generated automatically by the system and sent as text messages to supervisors / managers. Ultimately, this results in a more efficient and cost-effective process allowing staff to spend more time on customer service in customer facing roles as opposed to 'behind the scenes' in convenience stores, restaurants, hotels, fast-food outlets or catering companies. Kelsius' FoodCheck system is the only system of its kind currently available in the market. FoodCheck combines wireless sensor technology for food temperature monitoring and recording with an intuitive tablet based application which also facilitates the management and recording of hygiene related tasks.
Related Links
Checkout.ie Article
Donegal Daily Article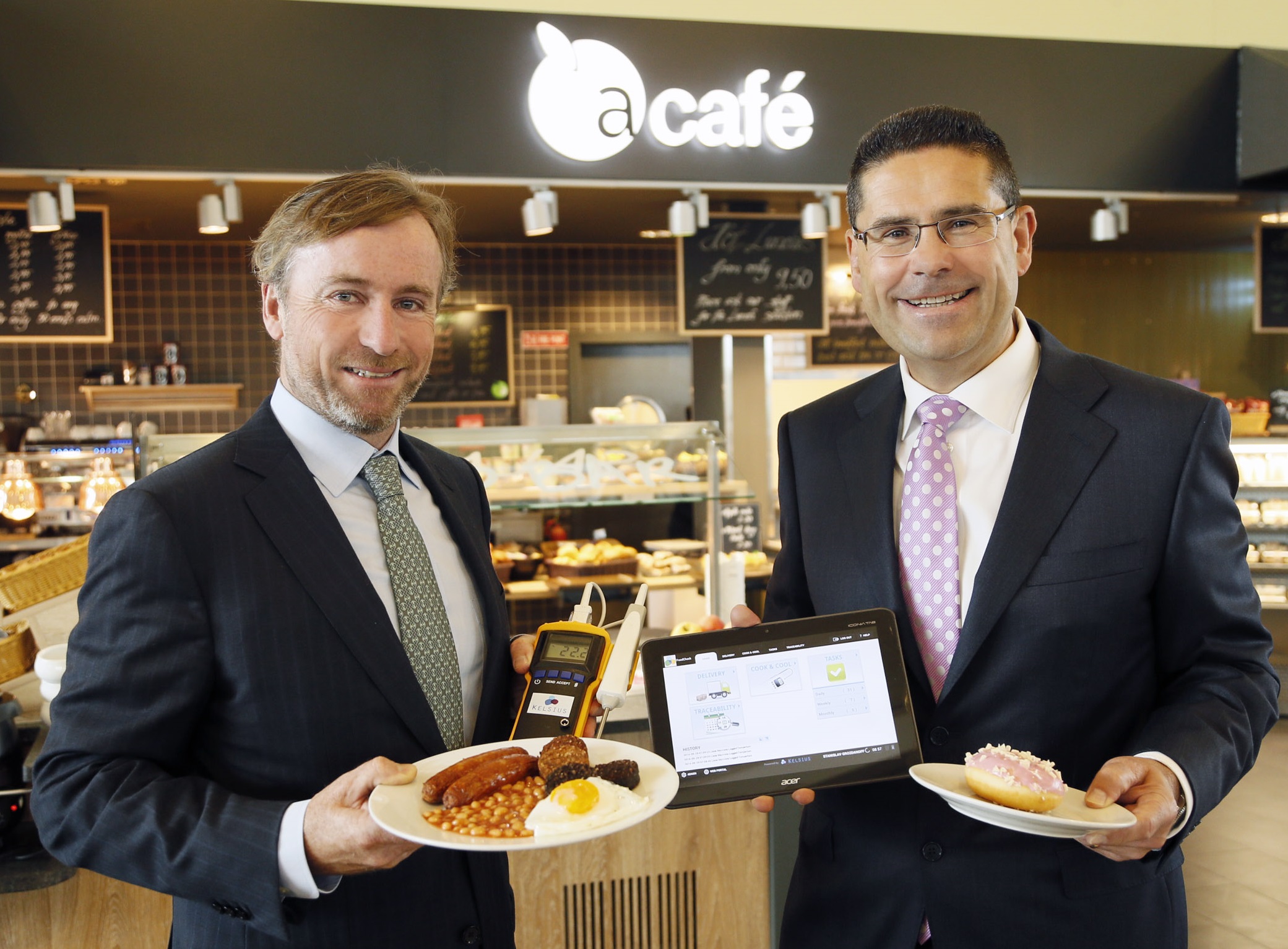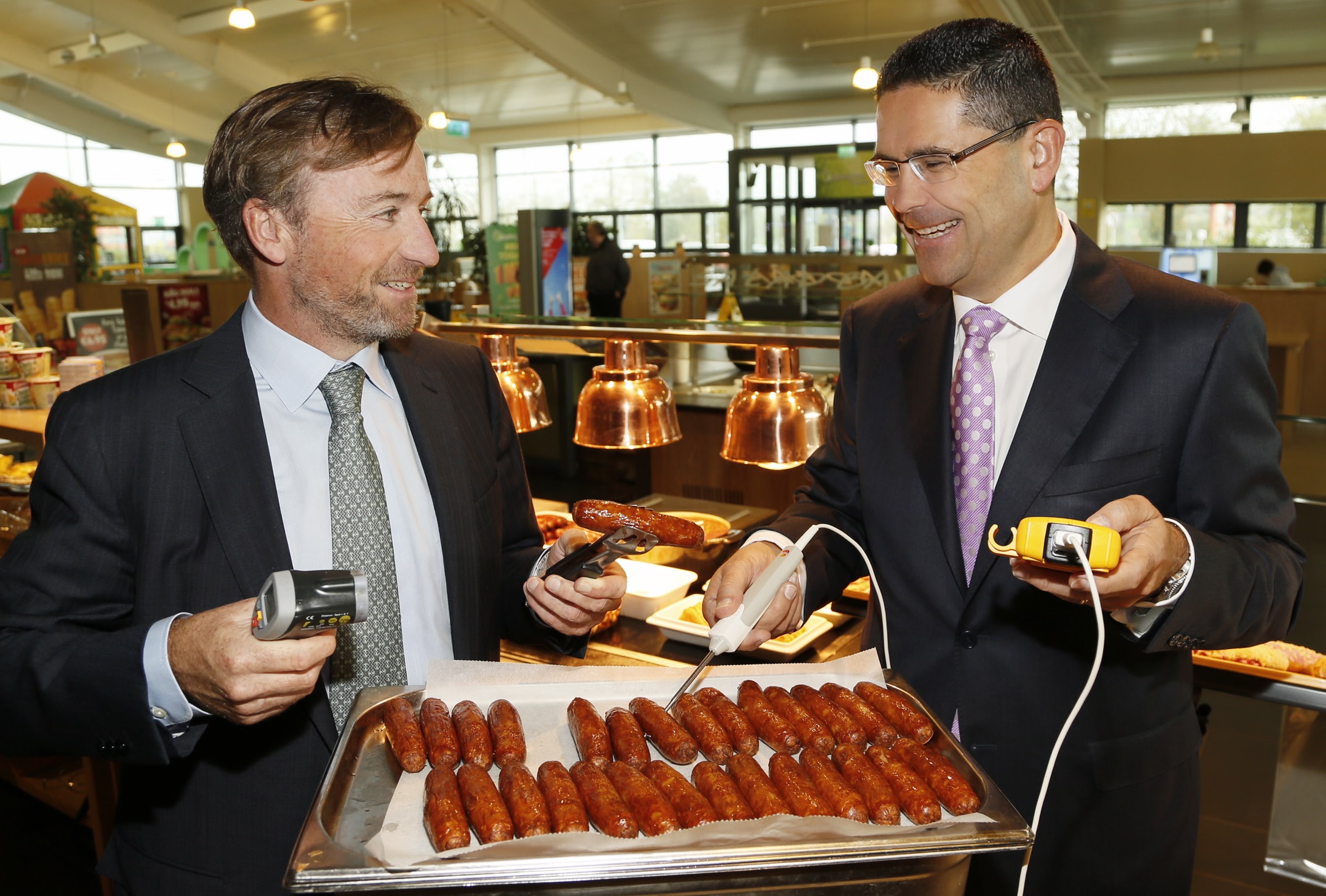 Pictured at Applegreen's Motorway Service Area at Lusk, M1 on the occasion the announcement of the Kelsius contract with Applegreen to roll out Kelsius' FoodCheck technology across the entire Applegreen network were Eamonn Quinn Executive Chairman, Kelsius and Joe Barrett, Chief Operations Officer, Applegreen.